In4care On Tour: Barcelona
Registration for this event is now closed
Met In4care On Tour
naar Barcelona 
(28 & 29 september 2020)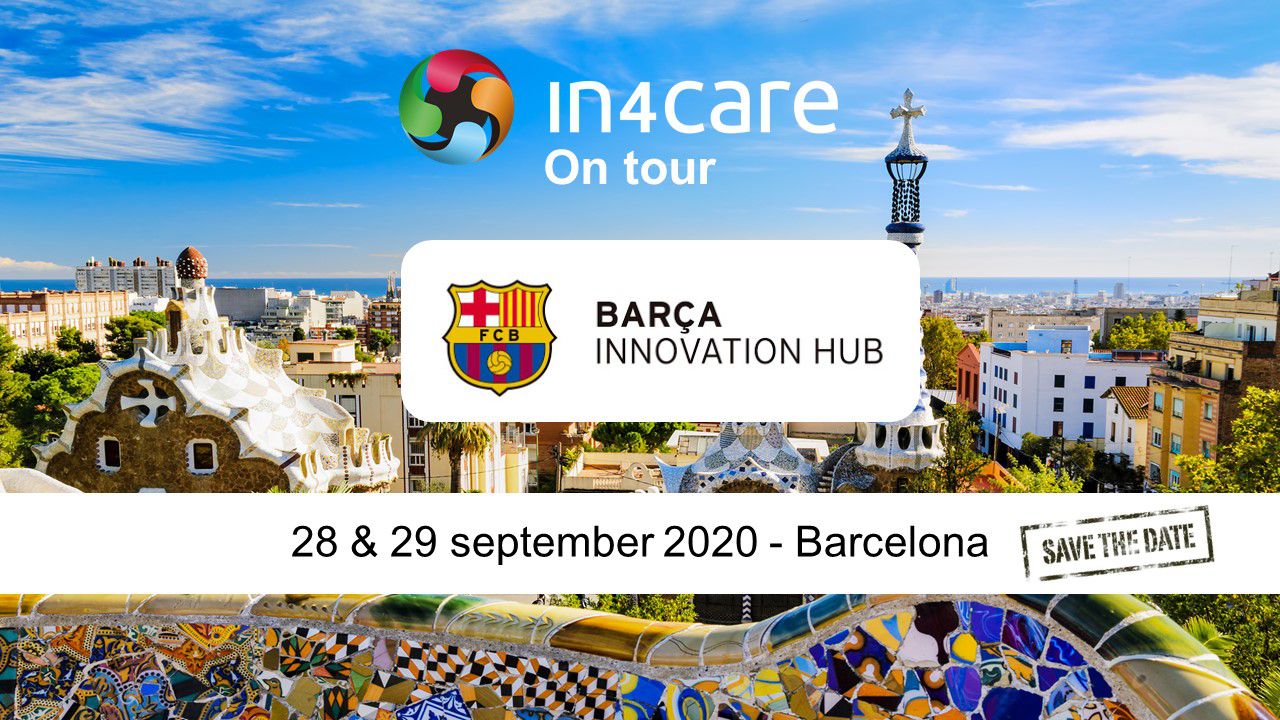 PROGRAMMA (O.V.)
ZONDAG 27/09
19:00 Dinner (Optioneel)
21:00 Welcome drink at the hotel
MAANDAG 28/09
08:00 Breakfast
10:00 Barça innovation hub
One of the fundamental principles of the Barça Innovation Hub is the conviction that, in scientific research and innovation projects, collaboration between different types of entities generates moreefficient and robust results which are suitable for the needs of end users.
Gastsprekers:
1.Albert Mundet – CEO Barça Innovation Hub
2.Gil Rodas - Head of Medical Area of Barça Innovation Hub
12:00 Lunch @ Barça innovation hub 
14:00 Barcelona Tech City 
Recognized by Forbes as one of the top innovation & entrepreneurship hubs worldwide.
16:30 Barcelona Supercomputing Centre
Life Sciences department: Their mission is to understand living organisms by means of theoretical and computational methods (molecular modeling, genomics, proteomics).
19:00 Diner + Startups + Meet & Greet i.a.w. Biocat & EIT Health
DINSDAG 29/09
08:00 Breakfast
10:00 Barcelona Health Hub
The mission of the Barcelona Health Hub association is to promote innovation in digital health and its transfer to the sector, linking startups, health organizations, companies and investors
12:00 Lunch
13:00 Hospital visit: Vall d'Hebron
Vall d'Hebron Barcelona Hospital Campus is a world-leading healthcare complex where healthcare, research, teaching and innovation go hand in hand. We contribute to society the best way we know how: bringing all our expertise together to serve the patients of today and tomorrow.

16:00 Hospital visit: Hospital Sant Joan de Deu
SJD Barcelona Children's Hospital has been committed to innovation since 2009, when it created the Innovation Department. Its main objective was to provide an outlet for its professionals' innovative ideas, both healthcare-related and non-healthcare-related.
SJD nalysed more than 100 innovation projects and carried out more than 50, 35 of which remain active today. 
In addition, SDJ collaborated with more than 100 Spanish and international companies from the healthcare industry and other industries in the economy. Currently, 44% of our projects are being carried out in collaboration with other companies.
PRAKTISCH

In4care zorgt voor:
2 overnachtingen 

ontbijt, lunch, diner op maandag / ontbijt, lunch op dinsdag

alle verplaatsingen

en uiteraard het volledige inhoudelijke programma
Transport van en naar Barcelona is door de deelnemer zelf te regelen (op verzoek bezorgen we u graag een lijst met vluchten Brussel-Barcelona en terug)
Leden kunnen deelnemen aan €1299, niet leden betalen €1999.