Connected Healthcare Conference
23-03-2019 09:00

t/m

23-03-2019 16:45

(

Europe/Brussels

)
Registratie voor dit evenement is gesloten.
---
Partner event
i.s.m. Building Healthcare for Tomorrow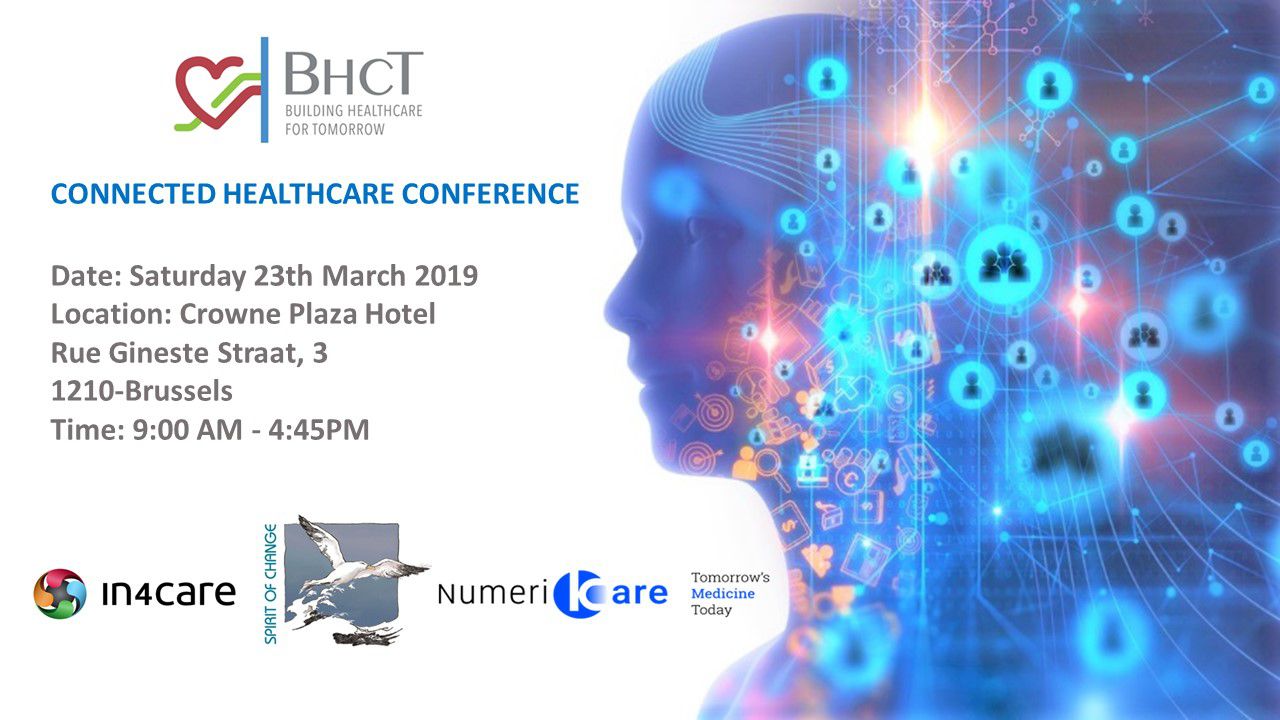 €25 korting voor leden In4care
PROGRAMMA
10:30 - 11:00 Onthaal, welkomstdrink & informele kennismaking
11:00 - 12:00 5 start-ups, ondernemers stellen hun innovatie voor (pitch-sessie).
12:00 - 14:00 Een heerlijke 3-gangenlunch. Na elke gang wisselen de deelnemers van tafel.
14:00 Einde



LINE UP

UMBI (BE)
Umbi wil ambulante consultaties efficiënter maken voor ziekenhuizen/artsen en tegelijk de patient experience verbeteren. Wij geloven dat deze 2 doelstellingen elkaar versterken.
Umbi haar eerste product gelanceerd waarmee onmiddellijk een grote efficiëntiewinst gerealiseerd kan worden en waar steeds meer patiënten naar vragen: Online afspraken

Clinicard (NL)
Clinicards is een flexibel digitaal zorgplatform om patiënten te monitoren, informeren en coachen. Het is schaalbaar en daarmee voor veel verschillende klinische domeinen toepasbaar. Het maakt zorg op afstand en zelfregie voor de patiënt mogelijk.
Met de Carepath functie biedt het Clinicards platform de mogelijkheid om als zorgteam digitale zorgpaden in te richten met verschillende monitor en informatiemomenten. Daarmee wordt de patiënt door een specifieke zorgpad geleid. Samen met ingestelde streefwaarden worden patiënten dus digitaal gecoacht. Echter indien de resultaten aanleiding zijn, kan een bericht worden gestuurd of is beeldbellen met de patiënt mogelijk.
In Nederland wordt het Clinicards platform door diverse academische en perifere centra gebruikt.

Intelligent Observations (US)
Intelligent Observation has developed a proprietary technology solution to monitor and manage hand hygiene compliance of healthcare workers that is validated to be more accurate, detailed and scalable than anything ever offered in this effort. Among the first customers for its solution Intelligent Observation includes Johns Hopkins, the though leaders in infection control worldwide and HCA, the largest hospital chain in the US.

Rehand (ES)
According to some scientific reviews, some wrist, hand and finger pathologies are some of the most expensive, ahead of hip and knee fractures, representing in total a cost of +5.8 billion € annually. Despite this, the treatment currently used through paper exercise protocols is outdated and has been shown to be ineffective. According to scientific evidence, for an exercise program to be effective it must be adapted to pathology and evolution, monitored, and integrate the sensorimotor system. Paper protocols do not meet any of the conditions, but touch-screens of Tablet devices do through functionalities integrated into ReHand, turning Tablet devices into a new medical device in a scalable way. After 3 years of development and clinical trials with more than 600 patients, we have created ReHand, the first digital solution for rehabilitation of wrist, hand and fingers through Tablet devices. Thanks to these trials we know that ReHand is more clinically effective than conventional methods and that it generates savings to health services.